---
Police release men from immigration van blocking Glasgow street
Written by on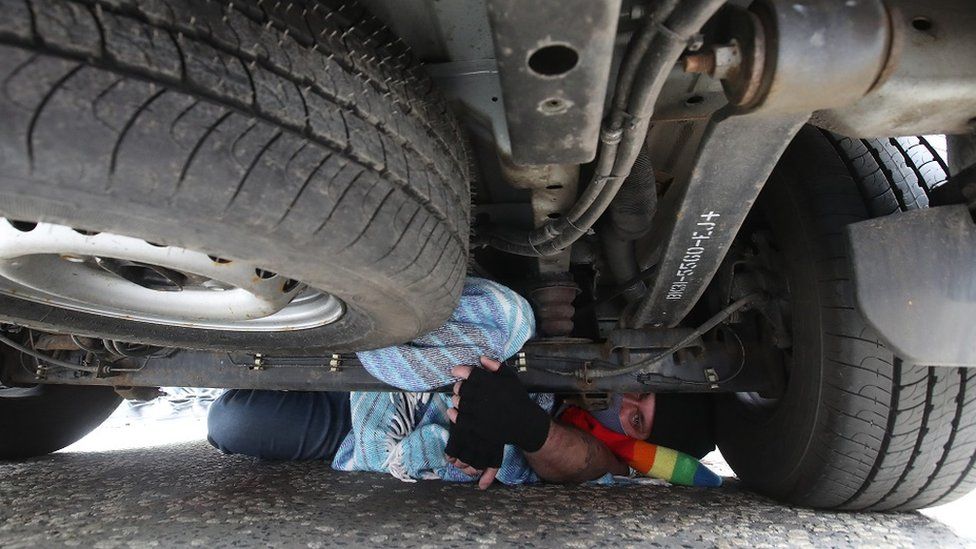 The police are set to release two men currently detained in an immigration van which is blocking a Glasgow Street.
The move follows a standoff between the authorities and protesters in Kenmure Street in Pollokshields.
On Thursday morning people surrounded a Home Office vehicle believed to contain two immigrants who had been removed from their accommodation.
Police Scotland said it would release the pair if protesters dispersed from the street.
Currently, a man is refusing to move from under the van while hundreds of people sit and stand in the road
Some of the protesters were heard shouting "let our neighbours go".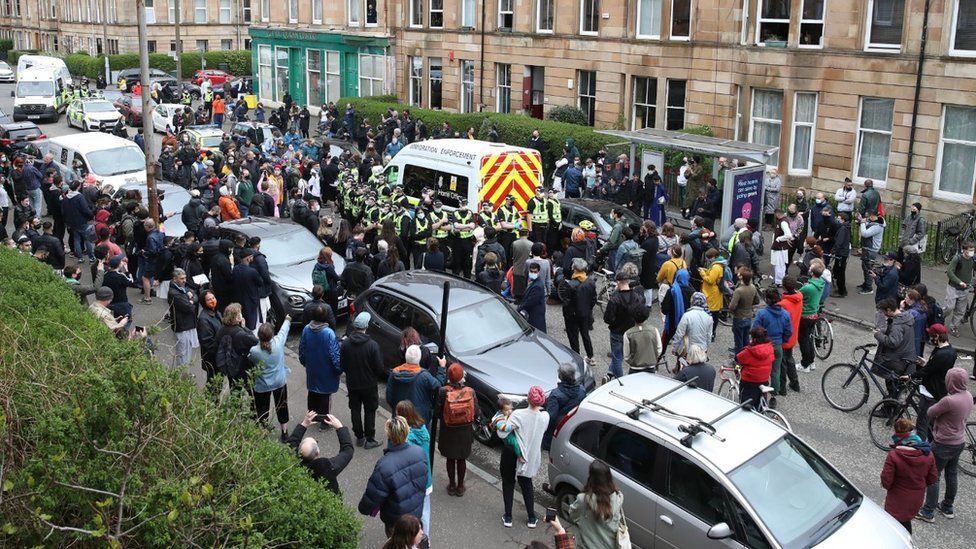 Scotland's First Minister Nicola Sturgeon, who is also the MSP for the area, said the Home Office action "was creating a dangerous and unacceptable situation", and urged them to "resolve" the situation ASAP.
Humza Yousaf, the Scottish government's justice secretary, said he had asked to speak to the Home Office to "make clear just how unacceptable this situation is".
However, he said he was "disappointed that out of eight Home Office Ministers none of them could make themselves available" to speak to him.
Instead, he said he spoke to the a representative for the department in Scotland and urged them to abandon the operation.
BBC Scotland has asked the Home Office to comment.
The @ukhomeoffice action today is creating a dangerous and unacceptable situation in Pollokshields. As local MSP, I am also seeking urgent answers from them – they must resolve this situation ASAP. https://t.co/aMGAe88M1J

— Nicola Sturgeon (@NicolaSturgeon) May 13, 2021
A Police Scotland spokeswoman said officers had been called to an address in Kenmure Street following a protest by "a large group of people".
She added: "The call was made by UK Immigration Enforcement (UKIE) after a group of protesters gathered at the address where UKIE staff were in attendance.
"Police Scotland does not assist in the removal of asylum seekers.
"Officers are at the scene to police the protest and to ensure public safety."
Nine police vans and a number of police cars were seen near the scene.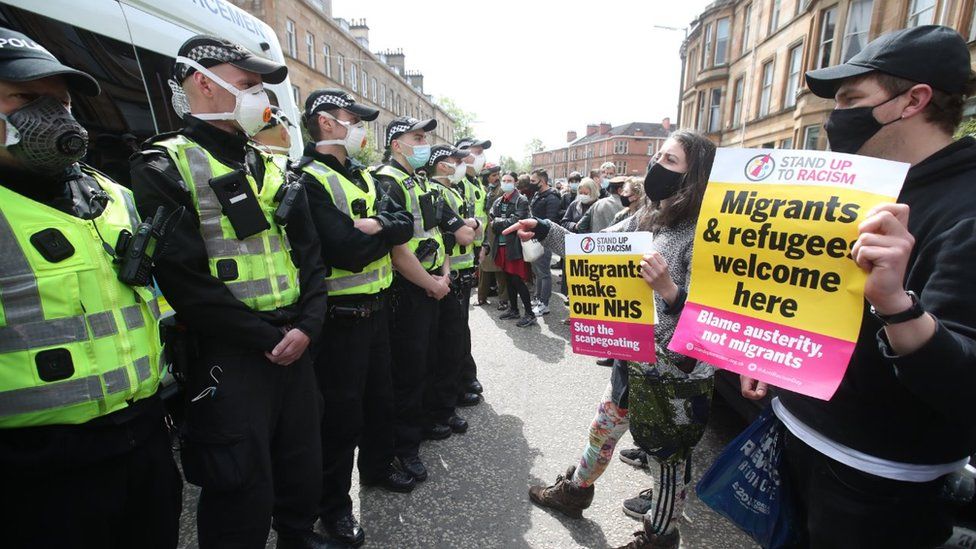 The Sikhs in Scotland group said in a statement that it was "deeply concerned", and urged the Home Office to "abandon forced removals and to adopt an immigration policy based on human rights, compassion and dignity".
Mohammad Asif, of the Afghan Human Rights Foundation, said hundreds of people were protesting.
The 54-year-old added: "We're here against the hostile environment created by the Tories and the British state."


From BBC Scotland's Rachel Grant, at the scene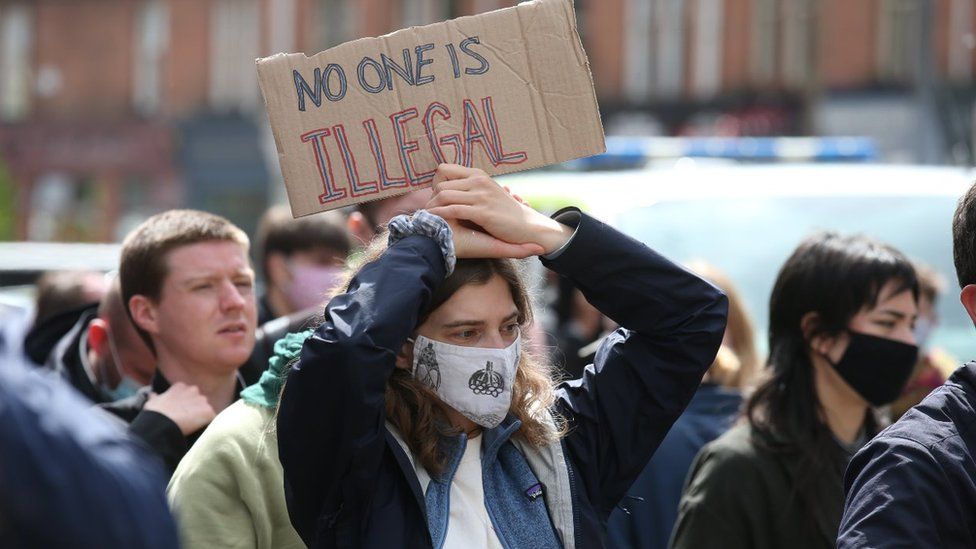 Pollokshields is a close knit and diverse community so the mid-morning forced removal of two young men by the Home Office has attracted attention.
By the time they had been taken from a top-floor flat, there were already a handful of people protesting at the immigration enforcement van on the busy street, with one man crawling underneath to stop it moving.
Neighbours, many working or studying at home because of the pandemic, were rallied by phone to stand around the vehicle. Within an hour there were more than 100 people and a dozen police vans.
Those numbers, of both police and residents, increased over the next few hours and surrounding streets have been cordoned off to traffic. The protesters say they will not leave until the men are released.
The Home Office van is overlooked by imposing Victorian sandstone tenements, some with signs that have been there since last summer, saying "Black Lives Matter" and "Thank God for Immigrants".
Some of the local protesters are dressed for their Eid celebrations, interrupted by these events.
Most people are wearing masks, aware that this community is already experiencing a surge in Covid cases.
Go to Source
Date: 13 May 2021
Author:
---