---
Covid: Matt Hancock defends timing of first lockdown
Written by on
Health Secretary Matt Hancock has sought to justify the timing of the first national Covid lockdown after claims a delay cost thousands of lives.
He told MPs locking down earlier than 23 March 2020 would have gone against the scientific advice at the time.
Ministers did challenge the scientists, he insisted, but overruling their advice would have been "much harder".
He denied claims by Dominic Cummings at the same committee two weeks ago about his handling of the pandemic.
He rejected Mr Cummings's criticisms – including that he had lied to Prime Minister Boris Johnson about care home testing – and gave a very different version of events to that set out by the PM's former aide.
After his appearance, Covid-19 Bereaved Families for Justice UK said Mr Hancock "blames everyone but himself and the government for the handling of the pandemic".
Mr Hancock told the MPs he "bitterly regretted" not pushing back harder against initial scientific advice that Covid was unlikely to spread asymptomatically.
This assumption was a big reason, he said, why the government advice on routinely testing hospital patients before they were discharged into care homes did not change until April.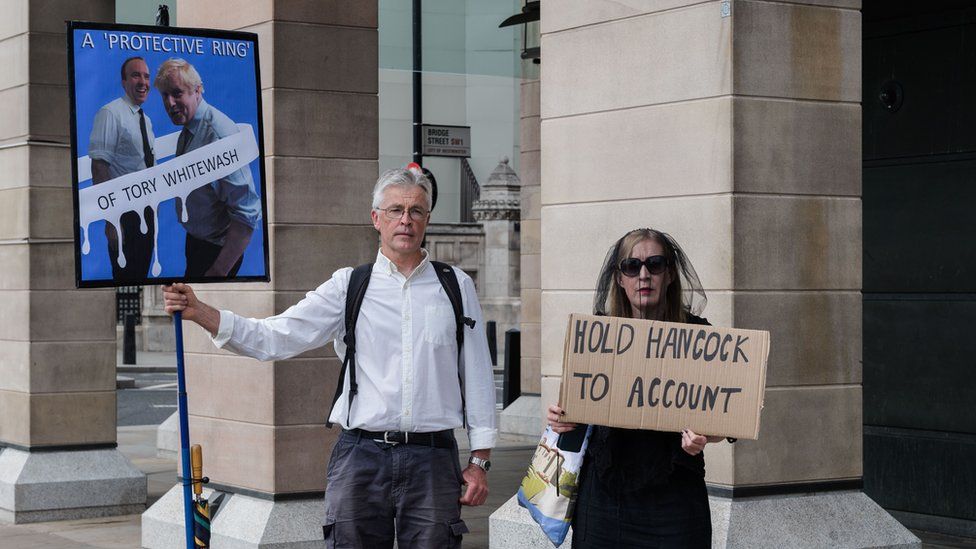 When pressed that government scientists had concluded on 28 January "early indications" implied asymptomatic transmission, he maintained the "recommendation for policy advice" at that point was that it was unlikely.
He said he had asked scientists in January to look into evidence from China that the virus could transmit in this way – but was told during a World Health Organization call this was "highly likely" to have been down to "translation issues".
He added he had an "instinct" the advice was wrong, but said it was hard to overturn this when "you don't have the evidence that you're right, and the scientific consensus is wrong".



Regrets? Matt Hancock has a few.
Such as not challenging the assumption within Whitehall early last year that the public wouldn't tolerate a lockdown to contain Covid.
He "bitterly regretted" that he had not overruled scientific advice at the start of the pandemic that assumed coronavirus could not be transmitted asymptomatically.
Mr Hancock said the death rate in care homes "weighed heavily" on him.
But over four and half hours the health secretary defended the government's actions on several fronts – from PPE provision to care homes – making claims that will be scrutinised further.
Dominic Cummings sat in the same chair two weeks ago and heaped scorn on blame on his former colleagues (most venomously on Mr Hancock).
In contrast, the health secretary said ministers and officials largely did their best in unprecedented circumstances.
Mr Hancock strenuously avoided mentioning Mr Cummings by name but swatted away his allegations when they were put to him by MPs.
While assiduously praising those he worked with Matt Hancock also gave the impression that what the crisis really needed was more Matt Hancock.
After having his name trashed by Mr Cummings a fortnight ago this was quite a bounce back.
Matt Hancock ended his evidence saying the government was now better prepared to handle another pandemic.
It had better be because Mr Hancock's testimony added to the picture of a government stunned, sometimes inert and often overwhelmed as the Covid crisis engulfed it at the start of last year.


Former government adviser Prof Neil Ferguson has said deaths in the UK would have been halved if the first lockdown had been introduced a week earlier.
Quizzed by MPs on the decisions that led up to the first lockdown, the health secretary said he had instructed the NHS to plan on a "reasonable worst case" basis, from January, that 820,000 people could die from Covid.
But it was not until 9 March that data "started to follow" this trajectory, and not until a week later that "updated modelling" showed the UK was broadly on track to meet it.
'Obvious' lockdown costs
The public was told to avoid non-essential social contact on 16 March, with a full UK-wide national lockdown introduced on 23 March.
Asked why a lockdown was not implemented earlier, he said: "The clear advice at the time was there was only a limited period that people would put up with lockdown."
He added: "That proved to be wrong."
"Challenging the advice is one thing, but overruling a scientific consensus is much harder, especially when the costs of the lockdown of the lockdown are immediate and are obvious," Mr Hancock told the committee.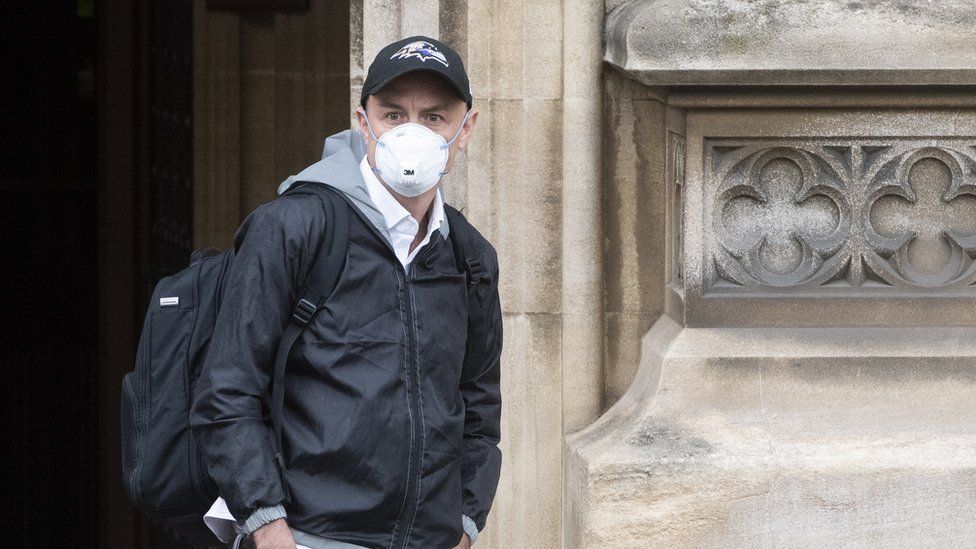 Mr Hancock also said he had known Mr Cummings wanted the PM to fire him last year, claiming the ex-aide had "briefed the newspapers at the time."
And in a swipe at the PM's former aide, he said government had "operated better" since his departure from Downing Street in December.
Defending the government's initial advice that all hospital patients did not need to be repeatedly tested before being sent to care homes, he said ministers had "followed the clinical advice" at all times.
He said clinicians at the time were worried about people picking up Covid in hospital while they waited for test results and false negatives from patients without symptoms providing "false assurance".
'Multiple excuses'
But Labour's shadow care minister Liz Kendall accused Mr Hancock of "selectively" quoting clinical advice "instead of admitting his abject failure to protect care homes".
"He has now used multiple excuses for failing to test those discharged to care," she said.
The health secretary was giving evidence to the Commons health and science committees, as part of their joint inquiry into the government's handling of the pandemic.
Asked by a reporter waiting outside his home when he would produce this material, Mr Cummings said: "I'm dealing with a TV repair van, I'm afraid."




Go to Source
Date: 10 June 2021
Author:
---